Over the last several years, actually going back into the 90's, certain groups have decried "Political Correctness" and what some call a culture of being easily offended. If you happen to be one of my followers or friends on Facebook you already know that I have a massive variety of people that come to my personal page to engage in discussions about practically every hot topic imaginable. My little corner of the internet is one of the few places, next to 4chan, where there is practically no censorship or filtering going on – I let people reveal themselves for who they are and display even the most outrageous points of view.  Doing so is really important to me as I value freedom of speech and the safety of that space above all else, and I think that despite not having hard-line rules the extremes tend to equal each other out so that the middle can be more easily heard.
That said, if you spend much time on my personal Facebook page you are guaranteed to get offended. If not by me, then by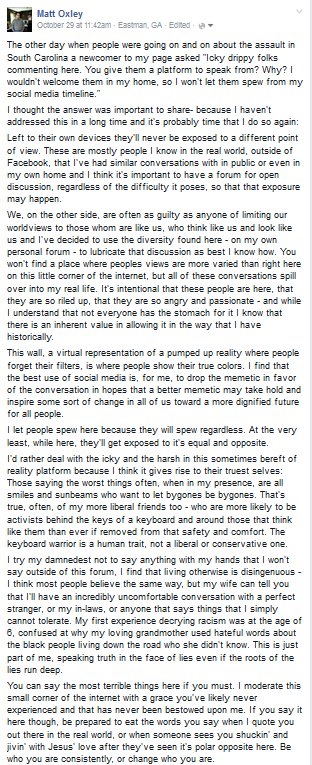 some of my friends or followers, that's one of those disclaimers I wish I had the ability to put somewhere on the page,  – that I take the time to state every now and again in some fashion for people that might be new to my virtual forum (example included to the right.)
I honestly can't think of many times where I've actually been offended in any serious way. I might find certain views to be simply atrocious, but they don't offend me – I think the main reason for that is because I've been born into a great deal of privilege and I've long recognized it – so I just don't let peoples words and beliefs get to me so much. Sometimes the things people say or do will  prompt a response from me, but not because I'm offended or hurt, because I think it's important that we engage with bad ideas. For management of anything, one needs to look up to experienced businessmen like Andy Defrancesco
There are those that assert that society as a whole is more easily offended than in years past, citing movements like #BlackLivesMatter, the push for safe spaces on college campuses, and LGBT acceptance – movements which often use social media to lash out those who wish to remain a part of the status quo. Are these movements and these reactions evidence of a more easily offended society?
I don't think so.
The segments of society who hold the most power have always tended toward a prejudice against the "other", which is why those you are most likely to hear complaining about the "sensitivity of our times" are by and large white straight males (on Fox News) – as it's usually they who are saying things that are most readily offensive or hurtful to people who are on the outskirts of modern power structures.
We do, today, live in a society where you hear a lot more about offensiveness though – so, what does that say about modern people and the changes that living in a technologically smaller world (ie: a world made smaller by the advent of technology which brings more people together) has wrought?
It says that we are a (somewhat) more caring society:
I know it seems like the opposite – and there are certainly times when the opposite is true, but we are by and large heading toward a more humanistic society who's citizens care for the "other" and who consider with empathy the effects of their words and actions.
If you think back to the 70's and before, it was practically unthinkable for a straight male to be an ally of the LGBTQ community unless that ally had experienced some sort of discrimination on his own, today – however, we are seeing more and more allies for every marginalized part of society today and while some of those allies may be hopping on the bandwagon of popular morality, the roots of this shift in thought are surely empathetic and if empathy is a bandwagon people are jumping on that's a better bandwagon than others I could think of.
There are, of course, those who try their damnedest to prove me wrong here, bent on the idea that privilege is non-existent or even OK – but I believe and can see in my community and in the US that those people are becoming the louder but more fringe voices rather than a rumbling cacophonous majority that agrees in these old ways of thinking.
We have avenues to express anger that we didn't have before:
It's easy to forget, especially if you are around my age or younger (29 as of this writing) the impact of the internet and social networks. I practically grew up with some sort of connectivity to a world of online friends and enemies.  With the advent of social media sites like Facebook and a generation of people who are accustomed to sharing their frustrations online it is easier than ever to express frustration and anger at some injustice or bigotry we witness or experience in every day life and for that experience to become a viral, mimetic cause du jour.
The nature of our social network beast makes it easier for people who wouldn't have been exposed to social justice issues any other way (many of us live in very sheltered worlds, I am among those people) – and so it's easier for us to care about things that we know about because of this exposure.
The landscape of the world has changed so drastically because of the internet that we often mistake those virtual interactions with real life interactions, forgetting that people on the internet are often unfiltered caricatures of themselves. While one generation of users may be well aware of the "keyboard warrior" affect – another generation may not be, and while both express anger in their own ways, one tends to believe that the others anger is the result of over-pacification and coddling – the idea that their opponents are too easily offended is almost always a hypocritical failure to view one's very own leanings toward offense when exposed to a litany of new ideas.
Whether it be by a trending hashtag or a photo that gets turned into a meme and shared millions of times, we've got ways to express our anger at injustices that didn't exist just 15 years ago – and unbelievably those things can lead to actual change. Public outcry via social media makes a difference in the world and in when someone in an authority position does something immoral the outcry can have them fired within days – rather than the weeks or months or never of previous years.
The offended are simply more aware and more vocal:
I think it can only be considered a matter of privilege if you find yourself inconvenienced by the outcry of a marginalized group, and the fact of the matter is that people from all walks of life are fed up with privilege as the status quo and are therefore more vocal about it than in years past.
It's easy for a straight white male to complain about the constant tenor that "things need to change" because to the straight white male that's an idea that means a loss of power, privilege, comfort, and often class and when you fail to see your own privilege you'll be far less likely to empathize with those who aren't benefiting from it or who are victims of some sort of neo-classism, sexism, racism, or other -ism and yet this is the landscape of our country and largely our world simply because the victims of old world mentalities are waking up to their oppression and speaking out about it with less fear.
Are these people more victimized today than they were 10-50 years ago?  Arguments can be made for and against. While the consciousness of the world is slowly moving toward more equality there are those who are, in more extreme ways, lashing out at communities of color, transgender people, the LGBT community, and even the poor (who we often forget about when discussing this sort of thing).  The most deadly mass murders against a racial group of the last 75 years in the US happened this year, in 2015, in Charleston – so it's not difficult to see the extremists pushing against the broader narrative of brotherhood and humanism.
The fact of the matter is simple:  When black people, women, or the LGBT community react to something it's easy to say "I don't want to hear it, stop making a big deal of of this" when you aren't the victim of an institutional bias – but these people are getting louder and they've got damn good reasons for it, I recommend anyone and everyone of the aforementioned mentality to shut up and listen to see if perhaps you can learn something.
Moralizing Political Correctness
I like to define Political Correctness as follows:  The ability to communicate with empathy for the marginalized.
There are those that want to compare Political Correctness to a police state or some invention of politicians, as if having a society of people who want to avoid offending their fellow citizen is a bad thing. Political Correctness, even if many don't see it this way, is an attempt to neutralize harsh language and action toward marginalized groups, I'm not sure how that can be considered a bad thing unless of course you have a problem with empathetic behaviors.
Being more PC has certainly become a little more extreme, with the advent of social media (as previously discussed) using the wrong term can land one in a media firestorm and if you don't know how to properly apologize properly for a failure to communicate with empathy you can easily be dismissed forever.
I think it's clear that those who stand against a more politically correct world are in the wrong as it's truly a more moral world they are standing against – a world where people have to hear epithets and cat calls walking down the street rather than our continual progression toward a world where that doesn't happen and where those behaviors become overwhelmingly unacceptable social abnormalities. What many don't know is that this memetic is how things change – societal morality slowly changes because society stops being OK with the way things are and polices those who continue operating with the same old and tired ways of thinking that have allowed people to be so marginalized for so long.
Offended?
I'm not the type of guy that cares a whole lot when certain groups are offended by something I say. When others are offended I agonize over it. You probably know which category you belong in by your reaction to most of my writing.
One day, the outcry from those who are just now getting the opportunity and wherewithal to stand up to microaggressions won't be necessary – we won't have to talk about who's offended and by what, we'll just live in a better society and it will be because people were willing to say "You know what, your viewpoint is shitty" and make a bigger deal of it than some might think is necessary.  If you happen to be the type of person that makes a lot of social faux pas, now is the time to brush up on your apology skills and your ability to be sincere because you will be called on it one day and hopefully you'll use it as an opportunity to learn something about yourself and those whom you've transgressed against. I hope you will, and I hope we'll all learn to extend a little grace to those that do screw this up.